Food business industry has experienced a lot of changes in the advancement of technologies. And one of the technology that came with this is cloud kitchen. According to the resources cloud kitchen is one of the fastest growing food franchise business and is regarded as the more intelligent restaurant operation method.
A delivery-only establishment known as a "cloud kitchen" lacks a physical location, a dining area, and a takeout counter. It is a restaurant kitchen that doesn't have a regular restaurant or dining area and solely takes delivery orders. Only a functional kitchen that produces food and makes meals is present. The "cloud kitchen" feature allows customers to place online orders via the restaurant app or an online food aggregator app. These kitchens are sometimes referred to as ghost kitchens, virtual kitchens, and gloomy kitchens. In Delhi, there are already over 20,000 cloud kitchens that are already in operation, and that number is growing by more than 20% annually. A significant number of direct and indirect jobs are supported by these kitchens.
HOW DOES CLOUD KITCHEN BUSINESS WORK?
When compared to conventional kitchens, a cloud kitchen operates very differently. The use of technology by cloud kitchens for marketing, client acquisition, delivery, and other purposes is maximized. For instance, separate cloud kitchens can operate in the same area as different restaurants. Or, to create "virtual kitchens," a single cloud kitchen might operate under several different brand names. The menu of a cloud kitchen is designed to be simple to prepare and to maintain the highest quality when it is delivered to the consumer.
TYPES OF CLOUD KITCHEN MODEL
Here are some cloud kitchen models to assess before getting started.
1)        INDEPENDENT CLOUD KITCHEN
As the name implies, the cloud kitchen is just one brand, and all of their orders come via an online ordering platform. Independent cloud kitchens have a business concept that is self-reliant and is hosted on several food aggregators as a means to attract clients. They have a small team of chefs, clear operating hours, and a brand identity.
2)        HYBRID CLOUD KITCHEN
An extension of the standard cloud kitchen, a hybrid cloud kitchen is a cross between a takeout and a cloud kitchen. Hybrid cloud kitchens are equipped with kitchenware, but they also feature a storefront where clients may pick up their takeout orders. In a nutshell, a hybrid cloud kitchen allows a single brand with a single kitchen to have many outlets. Either the internal workers or food aggregators handle the delivery.
3)        FOOD AGGREGATOR OWNED CLOUD KITCHEN
If you thought there was fierce competition among food businesses, food aggregators have now entered the cloud kitchen game. A number of food aggregators rent out or buy a handy kitchen space to an emerging food business or one that is new to the market in an effort to capitalize on the revenue and rising popularity of cloud kitchens. As the food brand gains customers and the food aggregator sponsors a delivery, both parties benefit from this circumstance. As a result, the company received business while merely investing in the cloud kitchen's rental space and incurring no other expenses.
4)        MULTI BRAND CLOUD KITCHEN
This cloud business concept combines various brands into a single kitchen. Imagine a menu containing a variety of dishes, such as spaghetti and desserts, all coming from a same kitchen but being sold under various brand names. This style of cloud kitchen efficiently uses resources while keeping expenses down. Such multi-brand cloud kitchens are flexible in that they can adapt to local food demand in each location and use marketing data insights to offer a variety of cuisines while maximizing revenues.
5)        OUTSOURCED CLOUD KITCHEN
The food and delivery services are entirely outsourced under this cloud kitchen business model, which is the most recent player in the market. Any business, including restaurants, can outsource practically all of their menu items so that they receive the prepared goods at their location. The item is subsequently packaged by the restaurant and given to the delivery team. Because everything is handled by the outsourced group, from preparation to delivery, the operational costs for the internal team are significantly reduced.
WHAT IS FOCO MODEL?
Franchise Owned Company Operated Model is another name for FOCO franchise model. As the brand covers all operating expenses, the strategy assures that your investment is risk-free for all of your investors or partners. Fairness is necessary to preserve the ideal franchisor-franchisee relationship.
Franchisees are not required to spend money on operations under the FOCO model, and even capital spending is not permitted. Franchisees who choose the FOCO model are guaranteed a minimum revenue share guarantee or, occasionally, a fixed profit portion. The FOCO model might be one of the best learning experiences for you if you are just starting out in business and have no prior experience. The quality is managed by the brand as the operations
THE ROLLING PLATE CLOUD KITCHEN FRANCHISE
CHINESE BRANDS
1)        FAT CHINESE CHEF
2)        SHANGHAI CHILLIE'S
3)        DOU CHI
4)        CHOPPER STOP
5)        EXCELLENT DUMPLING HOUSE
6)        LET'S WOK
NORTH INDIAN BRANDS
1)        BHUKHA SHER
2)        ROZI ROTI
3)        RAJA BHOJ & CO
4)        KAHI SE BHI
5)        DANA PAANI
6)        BALLU BAWARCHI
7)        OYE CHHOTU
8)        PIND KANEDA
9)        LAALE DI CHAAP
10)      DELHI CACIES
11)      DUMB BIRYANI
PREMIUM BRANDS
1)        CHICKEN KHURANA
2)        ROTI AUR BOTI XPRESS
Benefits of Cloud Kitchens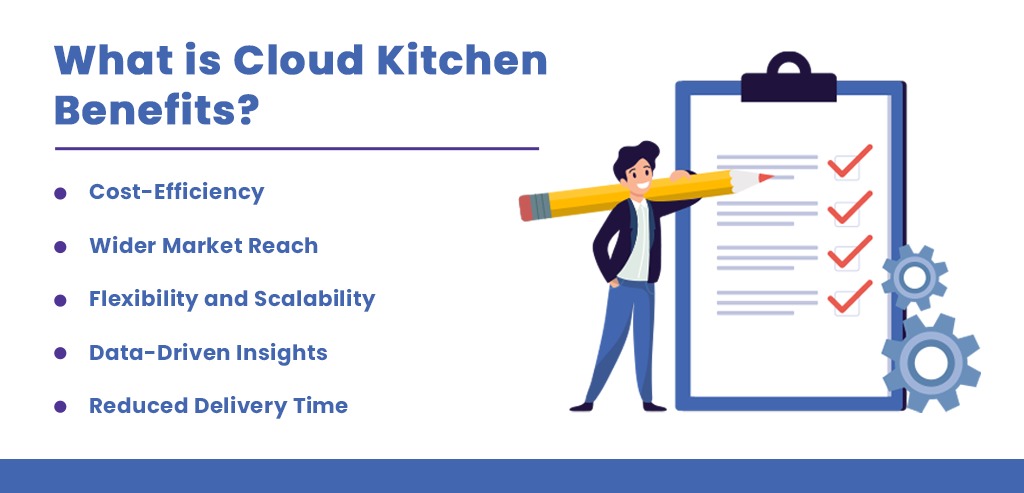 Cost-Efficiency: The most evident advantage of the cloud kitchen business model is its cost-efficiency. By eliminating the need for expensive storefronts and the associated operational costs, entrepreneurs can save a substantial amount of money, allowing them to invest more in quality ingredients and marketing.
Wider Market Reach: Cloud kitchens are not constrained by geographical limitations. They can cater to a much broader market as they can be located strategically in areas with high demand and can deliver to various neighborhood's without setting up multiple physical locations.
Flexibility and Scalability: With cloud kitchens, entrepreneurs have the flexibility to experiment with different restaurant concepts and menus without the risk of investing heavily in separate brick-and-mortar establishments. This scalability enables them to expand their offerings and enter new markets more easily.
Data-Driven Insights: Technology plays a crucial role in the functioning of cloud kitchens. They rely on data analytics to understand customer preferences, optimize menu offerings, and improve overall efficiency. This data-driven approach allows them to make informed decisions and provide personalized experiences to customers.
Reduced Delivery Time: Cloud kitchens are strategically located to minimize delivery time, ensuring that the food reaches customers fresh and hot. The focus on quick and efficient delivery enhances customer satisfaction and increases the likelihood of repeat orders.
The FOCO Model: A Game-Changer
One of the most popular and successful iterations of the cloud kitchen business model is the Franchise-Owned Company-Operated (FOCO) model. In this arrangement, a cloud kitchen brand offers its franchise to aspiring entrepreneurs, who then own and manage the physical kitchen while the brand operates and manages the backend processes.
Benefits of the FOCO Model in Cloud Kitchens
Established Brand Identity: Investing in a cloud kitchen franchise with a well-established brand provides entrepreneurs with an instant market presence and credibility. Customers are more likely to trust and order from a recognizable brand, giving the franchise a competitive advantage.
Operational Support: The FOCO model comes with comprehensive operational support from the parent company. Franchisees receive training, assistance in kitchen setup, technology integration, and ongoing guidance to ensure smooth operations.
Access to Proven Recipes and Menus: Franchisees gain access to a portfolio of tried-and-tested recipes and menus that have proven popular with customers. This eliminates the need for extensive market research and recipe development, saving time and resources.
Marketing and Branding: Marketing and branding efforts are often handled centrally by the parent company, relieving franchisees of this responsibility. The brand's marketing expertise helps generate more significant brand awareness and attract a larger customer base.
Economies of Scale: As part of a larger network of cloud kitchen franchises, entrepreneurs can benefit from economies of scale. Bulk purchasing of ingredients and shared resources further reduces operating costs.
The Rolling Plate Cloud Kitchen Franchise: A Success Story
One prime example of a successful FOCO model cloud kitchen franchise is "The Rolling Plate." This emerging brand has taken the market by storm with its delectable cuisines and customer-centric approach. By leveraging the FOCO model, The Rolling Plate has achieved remarkable success in a short span.