It's very tough to be in the Cloud Kitchen Business and succeed in. A report on restaurant failure rates by Ohio State University found that 60 per cent of restaurants do not make it through their first year, and 80 per cent close within five years of their official opening.
Starting a restaurant calls for a vision, the prime location and a lot of investment. Staying in business requires skillful leadership, seasoned staff, a flavorful menu and a bit of magic.
We found out some of the Study from Research Gate on Restaurant failures has concentrated on quantitative factors and foreclosure rates. Their study explored turnover rates of restaurant ownership using qualitative data, longitudinal data and Dun and Bradstreet articles. Contrary to frequently repeated statistics, during the first year of operation, a relatively modest 26.16 per cent of independent restaurants failed. Results from this study indicated an independent operator (61.4 per cent) in restaurant failures. The density and the turnover of ownership in restaurants were strongly correlated (.9919).
And many more stats continue to be horrifying like this

So why is it that restaurants fail?
So we visited and spoke to restaurant owners and experts and compiled some main reasons why restaurants struggle and how to resolve those obstacles. The key reason the mortality rates are so incredibly high in restaurants is that the owners don't look at the evidence. In the end, the lack of sufficient relevant data on what is causing restaurants to fail in the industry.
Knowledge is the main area which you need to concentrate on in this scenario. Most restaurateurs don't even know until it's too late that they are doing wrong.
We've done a lot of brainstorming with all relevant data about the restaurant business's reasons for failure and found that there are many reasons behind their business to collapse, some of them being poor location or poor customer service and food quality which means inexperienced chefs.
With all these things in mind, We have come up with solutions to make use of the digital age that can change the entire restaurant industry market, to be very frank, it can also be named one of India's most profitable business after a couple of years.
That's when the birth of The Rolling Plate "The Fist in India Cloud kitchen business franchise" happened, Its the only F & B Industry saving solution with the help of this digitalization, Restaurants also upgrade themselves to fit in this digital age.
Cloud kitchens, also called dark kitchens, ghost kitchens, virtual restaurants and satellite restaurants are gaining rapid popularity in the F&B industry. The global market for cloud kitchens was estimated at US$ 700 million in 2018 and is expected to grow at a CAGR of 17.25 per cent over the projected timeframe (2017-2030), according to a Goldstein Research report.
Our Cloud kitchens use a business model that aims to reduce operating costs and thereby increase profits. No wonder world is currently experiencing a boom in the cloud kitchens! It's not tricky to find out what makes cloud cuisines more lucrative than restaurants.
Our cloud kitchens business franchise model strips away the obstacles, i.e. allowing an investor to run his business just one tap away from his profits without having the restaurant's physical presence in a central hip destination. Our Cloud Kitchen franchise model is a place where food is prepared and delivered by placing orders at the doorstep via calls and online ordering portals.
Unlike other restaurants, We don't cater for dinner and takeaway. You invest in food preparation and distribution specifically, or better align with food ordering portals such as swiggy, Zomato, etc. Our Cloud Kitchen Business Franchise model is a special Cloud Kitchen Business concept. It is one of a kind idea in India.
It was introduced on 15 August 2019. With a cumulative investment of Rs 2.9 lakh in this business model, you can earn up to or even more than 50k/ Month just sitting at home without actually coming to the kitchen.
With an Investment of just 2.9 lakhs, We will provide restaurant ownership for the franchise. Just Invest and rest all things are done by The rolling plate team.
Since it's a model of the cloud kitchen, there is no rent or salary payable from the investor side. Your whole restaurant is online, and a portion of the income is shared by the franchisee. There are several overheads which are not required.
To give our potential customer's growth and development opportunities with our exceptional revenue-generating framework that will allow our franchise to make tremendous profits as all revenue generated will benefit. Because of this business model, more people would be able to invest as soon as possible in restaurants to create a sustainable competitive advantage.
Our cloud Kitchen solution allows an inexperienced entrepreneur, a retired officer or someone with a non-restaurant background to venture into the restaurant business without any problems, as we will support them.
So by brainstorming, we put along our many brands that serve food. Which are varied from North Indian to Chinese to South Indian and our treasured possession Continental. We firmly believe in innovation and therefore our horizons in terms of cuisine would be broadening in the coming years. Our Delicious restaurants are: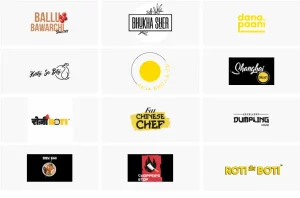 How to get into "Cloud Kitchen business"
The investor has to get to us, the rolling plate, and pick one restaurant brand out of eleven on the brand list. Also, the investor has to choose a location to operate. Investors would earn 18 per cent profit-sharing from the total gross profits generated at their place by that particular restaurant.
This functions as a passive income because there is no need for the investor to make an effort to operate the restaurant. The investor is expected to invest only, and in exchange, he gets a percentage of the monthly revenue transferred to his bank account.
We won't have any criteria of whom to make our franchisee anyone whether student, Working Professional, Business owner, Retired personnel who want some side Incomes can be part of the rolling plate family.
This is everything all about Our Cloud Kitchen Franchise Business Model, Its the mixture of the restaurant industry with digitalization which will also create great employment opportunity in India.