Food business industry has experienced a lot of changes in the advancement of technologies. And one of the technology that came with this is cloud kitchen. According to the resources cloud kitchen is one of the fastest growing food franchise business and is regarded as the more intelligent restaurant operation method.
A delivery-only establishment known as a "cloud kitchen" lacks a physical location, a dining area, and a takeout counter. It is a restaurant kitchen that doesn't have a regular restaurant or dining area and solely takes delivery orders. Only a functional kitchen that produces food and makes meals is present. The "cloud kitchen" feature allows customers to place online orders via the restaurant app or an online food aggregator app. These kitchens are sometimes referred to as ghost kitchens, virtual kitchens, and gloomy kitchens. In Delhi, there are already over 20,000 cloud kitchens that are already in operation, and that number is growing by more than 20% annually. A significant number of direct and indirect jobs are supported by these kitchens.
HOW DOES CLOUD KITCHEN BUSINESS WORK?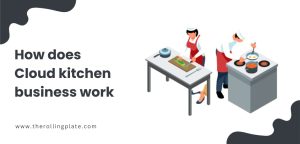 When compared to conventional kitchens, a cloud kitchen operates very differently. The use of technology by cloud kitchens for marketing, client acquisition, delivery, and other purposes is maximized. For instance, separate cloud kitchens can operate in the same area as different restaurants. Or, to create "virtual kitchens," a single cloud kitchen might operate under several different brand names. The menu of a cloud kitchen is designed to be simple to prepare and to maintain the highest quality when it is delivered to the consumer.
How much does it cost to open a cloud kitchen?
If you've ever wanted to open your own restaurant, you might be more on the verge of doing so than ever before. In recent years, the popularity of ghost kitchens, sometimes referred to as virtual kitchens, dark kitchens, or virtual restaurants, has risen, making restaurant management more accessible than ever.
Primary costs to consider when starting a cloud kitchen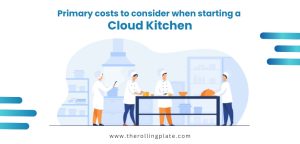 What does it cost to start a ghost kitchen then? While there are some fairly regular and steady budget items, state-by-state variations exist in restaurant sector laws. Consult the appropriate state departments, such as those in charge of health, revenue, or economic development, to iron down the particular.
In light of the foregoing, the typical costs to budget for as you create your cloud kitchen business plan are listed below.
Location: – Depending on the local real estate market, the cost of renting or leasing a commercial space might vary greatly. Rents in urban locations with high demand could be more expensive.
Kitchen Equipment: – Kitchen equipment of the highest caliber is required in cloud kitchens. Ovens, stoves, refrigerators, work stations for preparing meals, exhaust systems, and more are included. Depending on the size of the kitchen and the type of food you intend to serve, the price may change.
Licenses and Permits: – You may need to get different licenses and permits, such as health permits, business licenses, and others, depending on your location and the type of business you run.
Staffing: – You'll need to appoint cooks, chefs, kitchen people, and perhaps delivery staff. Labor expenses may be high.
Technology and Software: – For managing orders, coordinating deliveries, and handling client contacts, cloud kitchens frequently rely on technology. Online ordering websites, delivery applications, and POS systems may all fall under this category.
Branding and Marketing: – Costs may be involved in building your brand and promoting your cloud kitchen. This could involve creating a website, marketing on social media, and more.
Utilities: – Electricity, water, and gas bills are continual operational costs.
Packaging and supplies: – You'll need to spend money on supplies like napkins, utensils, and food packaging.
Initial Inventory: – Another upfront expense is buying food and supplies in advance of serving customers.
Insurance: – In order to safeguard against potential liabilities, business insurance is essential.
Interior Design: – In order to safeguard against potential liabilities, business insurance is essential.
Contingency: – Having a reserve fund is a smart idea in case something unexpected comes up.
The "best" franchise opportunity may vary depending on your personal preferences, financial resources, industry trends, and more. When looking for
        franchise  opportunities, it's a good idea to investigate various businesses, read franchise disclosure forms, and think about consulting franchise consultants.
        The most up-to-date and pertinent information can be found by:
Research Online: Look for reputable sources that provide insights into emerging franchise opportunities. Franchise directories, industry publications, and business websites might have valuable information.
Attend Franchise Expos and Events: These events often showcase a variety of franchise opportunities, allowing you to interact directly with franchisors and learn about their offerings.
Consult with Franchise Consultants: These professionals can guide you through the process of selecting a franchise that matches your criteria and financial capacity.
Contact Franchise Organizations: Organizations like the International Franchise Association (IFA) might provide information on current trends and opportunities.
Network with Industry Professionals: Joining industry groups or forums related to franchising and entrepreneurship can connect you with people who might have insights into the latest opportunities.
Read Franchise Disclosure Documents (FDDs): When you're interested in a specific franchise, review their FDD. This legal document contains detailed information about the franchise, including costs, fees, obligations, and more.
The Rolling Plate Franchise
The Rolling Plate franchise is an idea for a cloud kitchen that focuses on providing consumers with delectable and varied cuisines via delivery and takeaway services.                  A  FOCO model ensures continuity and quality by having the franchisee own the business while the firm manages day-to-day operations.
The Rolling Plate operates as a "ghost kitchen" or "virtual kitchen," incurring substantially lower overhead costs and providing franchisees with a more economical choice. Additionally, this configuration enables a more flexible and adaptable strategy to satisfy shifting consumer demands.
The franchise ensures a consistent flow of orders and income with a variety of well-liked and creative menu items that appeal to a broad consumer base. The Rolling Plate franchise offers a fantastic chance for business owners to enter the booming food sector without the requirement for a conventional restaurant setup due to the growing demand for quick, on-demand food delivery.
Aspiring franchisees can take advantage of The Rolling Plate's well-established brand recognition and support, as well as the benefits of a low-cost income opportunity and the potential for significant returns in the rapidly expanding food delivery market.