Cloud kitchen term is first hear about Decade and a half ago. Later virtual kitchen and ghost kitchen term are used at the place of cloud kitchen. The concept of delivery only or without dining, and has been around for over the 50 years globally. Innovation is the essence of all business growths, and the same applies to the restaurant business in India. Top-performing food delivery solutions like Zomato and Swiggy are growing rapidly. That is why, this is the best time to enter the commercial food business and capitalize on its next big trend. Enter Cloud Kitchens! This business model cuts out the problems in running restaurants businesses which then help it garner high sales. Using tie-ups with the booming online food delivery market to fulfil client demand it ensures the best outcome for all investors. Naturally, investors are flocking to industry pioneers like The Rolling Plate to earn big on this wildfire franchise opportunity idea. Here is everything you all need to know about cloud kitchen: 
Cloud kitchens are virtual kitchens with the delivery-only food brands in operation at intervals then known as virtual restaurants. The kitchen does not have a dining space, its only online food delivering via Zomato, Swiggy, Magicpin and other third party deliver partner. Cloud kitchens, also called dark kitchens, ghost kitchens, virtual restaurants and satellite restaurants are gaining rapid popularity in the F&B industry. The kitchen will produce food which is then delivered to buyers through an online food delivery apps. Aggregator platforms like Zomato or Swiggy have expanded all over the India through the sale of online food delivery service and attractive commission rates for Restaurants. 
How Does Cloud Kitchens Works?
Cloud Kitchens are a very new idea in the broad Food and Beverage industry. This business model is gaining global momentum and making waves in the Indian F&B industry as well. Cloud kitchen is a virtual kitchen which makes food, and then uses Zomato, swiggy, and other online delivery options to sell the food. When a buyer opens these apps, they see your kitchen menu and place the order they want. Then, the Zomato or Swiggy delivery executive picks up the order and delivers it to the right person. The kitchen does not have a dine-in option so the investment needed for it is far less than restaurants. 
The kitchen does not have dined in option, location choose is very important. Good location also attracts clients to invest in your cloud kitchen franchise. This allows everyone to place their capital in a low-investment and high-return food and beverage business. Cloud kitchen also does not physical restaurant, they can't see kitchen the online marketing is the only way for cloud kitchen brand to stay visible. Cloud kitchen is a low investment business plan, the large amount of the budget can be spent on online marketing because online marketing is an only way to interact with their customer and reach to the new audience. People only see you through online medium like their website, social media, and their delivery partner website. Being active and engaged on social media that will be beneficial for your brand because this is the only way to communicate with your customer. Update your social media regularly and wish your social media audience on special occasion. Profile on third party app is also very important because this is the only way to get order so make your menu interesting and attractive. Post a good photo of your food on delivery partner app which can increase your food order.
Future of Cloud Kitchen in India?
The Food franchise industry is booming right now, especially after the pandemic lockdown. Zomato, Swiggy and other online delivery businesses are seeing unprecedented sales. Further, the rapid increase at work from home jobs and growing digitalization will increase these opportunities even more. So, cloud kitchen franchises in India is a great place to invest capital for long-term high-returns and financial security. According to a Live Mint Report the online food delivery market in India is anticipated to expand at compound annual growth rates of 25-30% (based on revenue) and Rapid digitalization and growth in both online buyer base and spending will help India's online food industry to become an $8 billion market by 2022.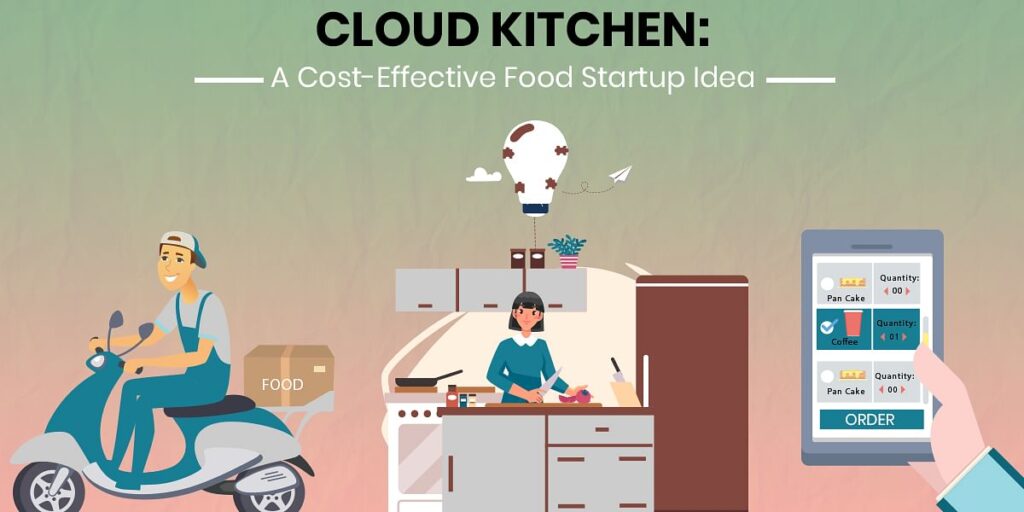 What Does The Rolling Plate Have to Offer F&B Industry Investors?
Since The Rolling Plate launched the first-ever cloud kitchen business back in 2019, starting own food restaurant business become effortless and possible in the low investment. The Rolling Plate is the best Food and Beverage franchise Investments Company in India right now. The rolling plate work on the concept of FOCO model. FOCO model known as a Franchise owned company operated. In FOCO model, the all setup is done by the franchise. The running cost is invested by franchise, investors will earn 18% of gross sales. If you are looking for the best business investment options in India, the rolling plate offers low-investment and high-return opportunities. At present, the Rolling Plate have 100+ clients and 250+ running of outlets since starting in early 2019 and establishing new ones every new month. We are scaling fast, earning big, and making a huge impact on how other F&B businesses operate. Find your ideal business investment with us now!